Maxillofacial Surgery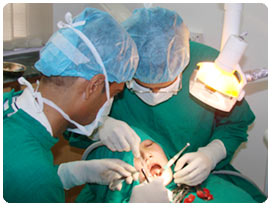 Oral surgery includes the diagnosis, surgical and related treatment of diseases, injuries and defects involving the functional and aesthetic aspects of the hard and soft tissues of the head, mouth, teeth, gums, jaws and neck. The oral surgeon can use intravenous sedation, and or local anesthesia in an outpatient setting for removal of teeth and other procedures. Our dentist will assess your need for oral surgery based on the results of a comprehensive examination.
From basic extractions to wisdom teeth extractions (even impacted teeth) in ONE visit (yes, you can opt to have all of your wisdom teeth removed in one visit) and Apicoectomy for cyst removal around infected root canals, we are equipped to perform basic to complex surgical procedures at our clinic.
We adhere to strict sterilization guidelines that exceed international norms.
Maxillofacial Surgery includes:
WISDOM TOOTH REMOVAL
JAW FRACTURES
COSMETIC JAW SURGERY
JAW JOINT SURGERY (TEMPORO MANDIBULAR JOINT SURGERY)
JAW & FACIAL TRAUMA (RECENT ADVANCES-PLATING TECHNIQUES)
AESTHETIC FACIAL BONE SURGERIES (ORTHOGNATHIC SURGERY)
CYST & TUMORS OF JAWS
WISDOM TOOTH SURGERY (IMPACTION)
BONE GRAFTING TECHNIQUES
RECONSTRUCTION & REHABILITATION OF MAXILLOFACIAL REGION