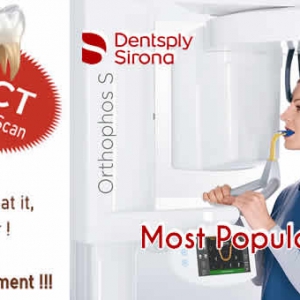 What is a CBCT scan?
It's basically a three-dimensional radiograph. CBCT stands for "Cone Beam Computed Tomography". It is quite similar to the "CAT scan" technology used in the medical domain. The difference is that a cone-shaped beam is used to image a small area exclusively with significantly less radiation.  There is a lesser distortion as compared to 2D images. Accurate measurements of the bone density, bone height and width are possible.

The latest and one of the best in CBCT technology is being used at MANYA DENTAL CLINIC for our more complex dental cases.
When do you need one?
You may be asked by your dentist to get a CBCT scan done in the following cases-
Dental implants –for the precise planning and placement of dental implants.
For Assessment of Relative Bone Quality
Root canal treatment- for clear-cut viewing of root canals.
Temporomandibular Joint– for diagnosis of TMJ related problems
Impacted teeth – for checking the position of the impacted tooth in relation to the neighboring structures like mandibular nerve and maxillary sinus.
Orthodontic treatment– for evaluation of the facial structures and teeth. 
What are the benefits of CBCT scan over 2D radiographs?
Benefits of CBCT scan include high definition images with exceptional details.
Multidimensional assessment is possible as multiple images are generated in various planes.
Helpful in accurate diagnosis and treatment planning.
Beneficial for Guided Surgeries.
What are the advantages of CBCT scans over CT scans?
90% less radiation exposure as compared to CT scans.
Quick procedure of 30 seconds to a minute as compared to one hour procedure in CT scans.
No discomfort like claustrophobia or loud noise
Conclusion
CBCT or 3D imaging is surely going to shape the future of dental diagnosis and treatment planning. This quick and painless procedure helps in accurate assessment of your facial skeleton and helps in planning of reconstructive and cosmetic dentistry procedures.